About The Greener Camping Club
The Greener Camping Club was established by a small group of like-minded people, themselves campsite owners, with a shared passion for sustainable, low impact camping holidays. The Club keeps cost of membership low, at just £10 a year. Running costs are also kept as low as possible, with a percentage of funds used for projects such as our carbon offset scheme. This commits us to planting a tree for every booking taken by our certificated sites. We also install nesting boxes, bat boxes, create habitat areas and support other environmental projects and good causes.

The Club holds its AGM in the late summer and members are invited to attend and contribute their ideas about the development of the Club.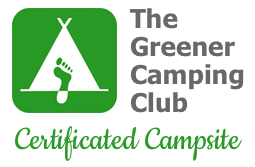 Campsite Owners
The Greener Camping Club was set up with the aim of providing a greener, more environmentally-friendly style of camping experience. If you own and run a small campsite, share our values and are located in England or Wales, get in touch in the first instance by using
this form
. Please note, the Greener Camping Club is not a planning service for new campsites and does not provide campsite planning advice.